History: abdominal pain and distention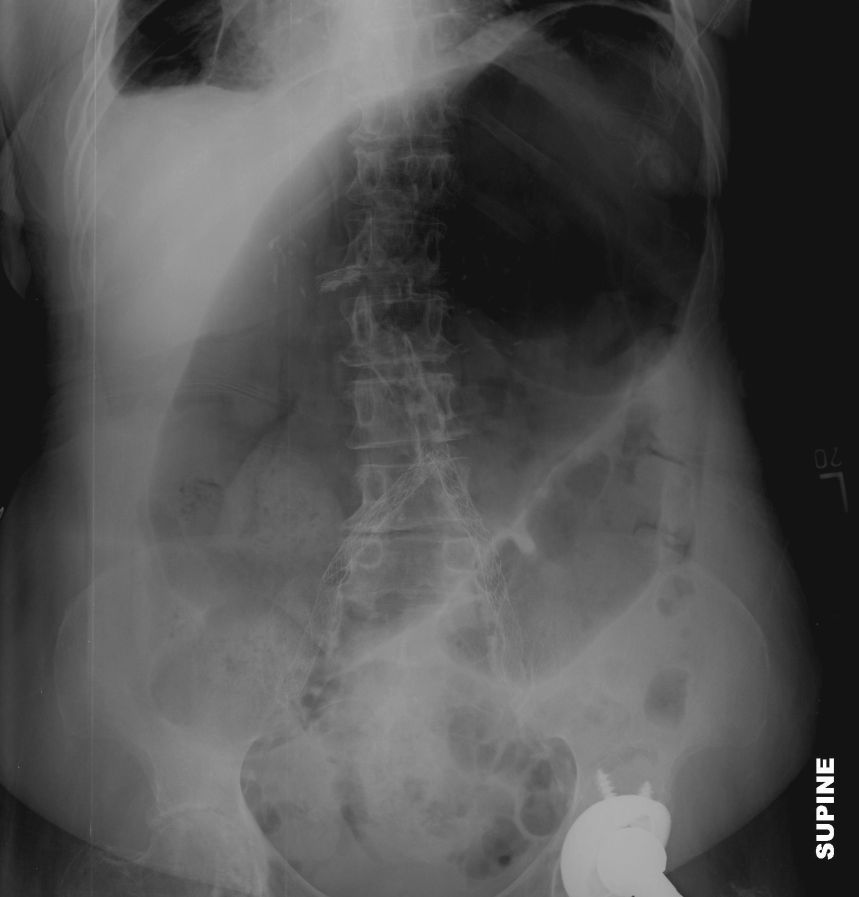 ---
Answer:
CLICK HERE FOR ANSWER
Answer: Cecal volvulus
= torsion of the cecum around it's mesentery
~10% of intestinal volvuli 30-60 yo
often prior abd surgery or pelvic mass
present as prox colon obstruction (pain,n,v, distention)
Cecal Volvulus
2 types:
Axial - twists about axial plane (either way) but remains in RLQ
Loop type - twists and inverts moving to LUQ
Bascule is a variant where the cecum doesn't twist, just folds up anteriorly (NO torsion!)
From UpToDate (a=axial, b=loop, c=bascule):
Cecal Volulus Imaging:
X-ray: marked dilated colon loop extending from RLQ to LUQ (remember cecum dilation is >9cm)
-haustra usually maintained
-can have SINGLE air-fluid level
CT: exactly what you expect - dilated cecum with "bird beak" at site of orsion/obstruction
Cecal Volvulus:
Look for wall thickening, pneumotosis, free air, arterial cut-offs or venous dilation/obstruction - all concerning signs for ischemia
Often when mesentery twists it pulls in other loops (see sigmoid below)

Treatment:
Surgery vs colonscopic decompression
Cecal vs Sigmoid volvulus
Not always as simple as it sounds.
Loop for straight (cecal) vs upside down U-shaped (sigmoid) dilated colon loop

Is the descending colon decompressed (cecal) or dilated (sigmoid)?